Of course, our trains are also included in the electronic timetable information systems for European rail traffic and for regional public transport. Regular data updates keep the electronic timetable information up to date. You can also call up additional and short-term trains here.
You can choose between two systems:
For national rail information including the Brohltalbahn, we recommend the Deutsche Bahn timetable information.

We recommend that you generally remove the checkmark "Show fastest connections" from the information provided by Deutsche Bahn. So you get more versatile and often cheaper, but only slightly slower connections. To search for the connections of the Brohltalbahn, it may be necessary to deselect the bus lines under "More means of transport", otherwise our trains may be suppressed because of the faster buses. The system is currently only of limited use for searching for additional bus connections in the Brohl Valley which better can be found in the VRM system.
Regional information is preferably available from the timetable information provided by the Verkehrsverbund Rhein-Mosel (VRM), which also provides the most up-to-date information on additional bus services in the Brohl Valley.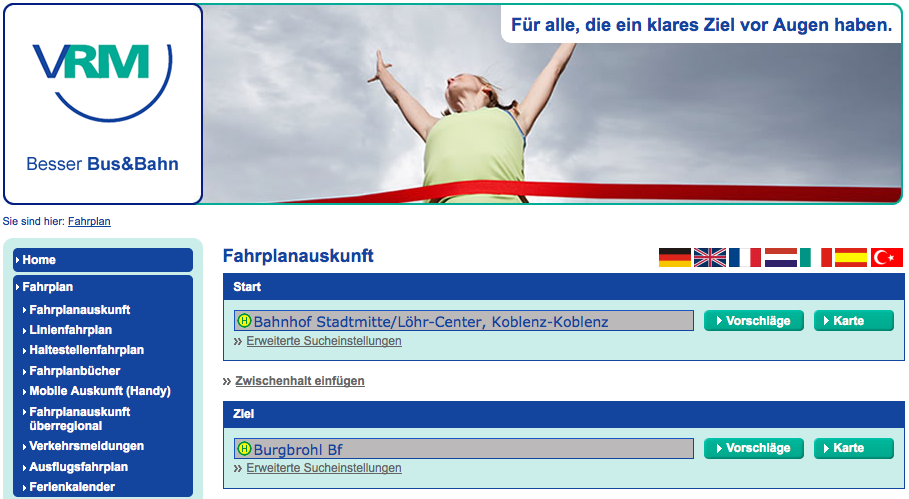 The VRM timetable information is ideal for searching for bus and train connections in the region, including the relevant fare information.
National timetables are also included.
If you also want to use long-distance trains, remove the check mark in the "Search settings" for "long-distance trains".
For a targeted search of the trains on the Brohltalbahn, it may be advisable to deselect the "Bus" and "On-Demand" checkmarks in the search settings.